Quora Advertising Abu Dhabi | Quora Marketing Dubai | Quora Advertising UAE
Quora Advertising Abu Dhabi
Quora is one of the largest online communities for questions and answers and one of the highest-quality user-generated content platforms.
It allows users to follow topics, share knowledge or expertise, ask questions, and provide answers and opinions. Other users can then respond with follow-up questions, comments, or objections, just like a typical conversation. When users upvote or downvote responses, Quora then algorithmically displays the best answers to questions.
What separates Quora from other question and answer forums, is the focus on long-form, quality answers from professionals, or people who have relevant experience with the topic. This makes Quora an excellent place for employees who work in specific fields to share their industry-specific knowledge and establish the company as a thought leader.
How is Quora unique and how does that apply to digital advertising?
Not only is Quora a great place for experts to share their expertise on topics but it's also prime real estate for brands to advertise and generate traffic to their post-click landing pages.
Quora now has over 500 million unique monthly visitors — double the amount it had just one year prior. The platform's valuation has also doubled over the past several years; it was worth around $900 million in 2018, and is now valued at about $2.8 billion. A substantial driver of these rapid increases was due to positive results from ad tests.
In April 2018, Quora launched its ads beta, only displaying ads from a handful of advertisers, including Lever, Uber, Wealthfront and Sunrun. Then, in May 2017, the company opened its ads platform to all brands advertising on Quora: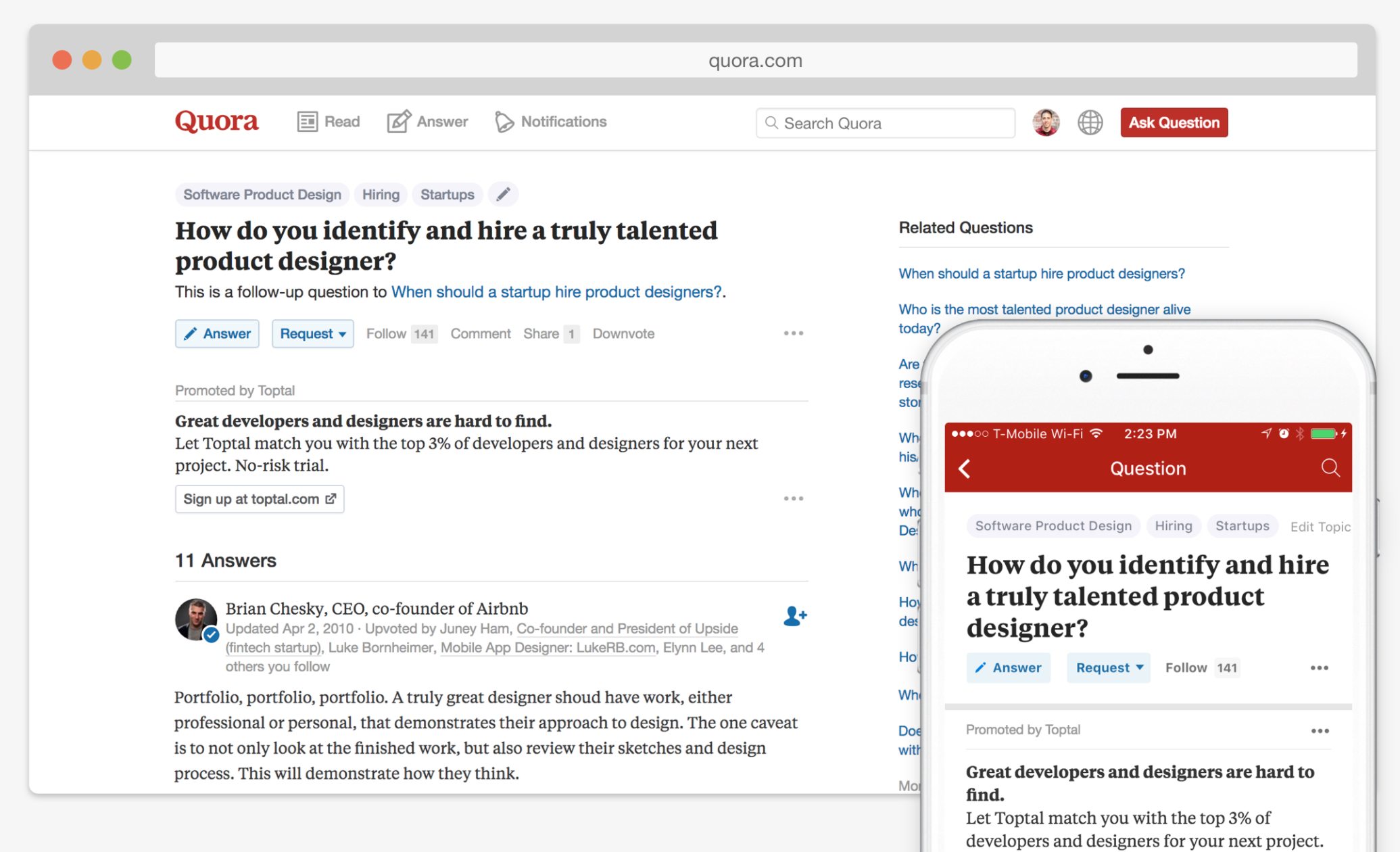 How does Quora advertising work?
People turn to Quora to find reliable, valuable information, so showcasing your expertise through Quora ads is a great way to get in front of users during the awareness and consideration stages of the marketing funnel. It can help you build authority on topics, drive traffic to your site, and ultimately, boost conversions for your business.
Self-service ads in Quora
With Quora's self-service ad platform, advertisers can create native, text-based ads, targeting users by interest, geography, or platform (mobile, desktop, or both). Rolling out a self-serve ad platform means Quora no longer has to surrender valuable and limited workforce to manually sell and target ads. Instead, advertising revenue can grow on its own.
How Quora decides which questions to show ads
Similar to other social platforms, topic targeting is used to reach audiences who are most likely to be interested in the ad offer. Since Quora categorizes its questions and answers according to specific topics, this is also how the platform decides what questions to show ads. As a result, topic-targeted ads typically appear on relevant question pages to ensure that they're more personalized for the viewer.
Targeting internationally with Quora ads
When targeting by geography, advertisers can enter zip codes, cities, states, and even countries. When self-service ads first launched, advertisers could target internationally, but ads were only supported in English. Now, Quora is available in multiple languages — English, French, German, Italian, Spanish, and Japanese — further expanding the global reach of the platform and its ads.
Recent additions to Quora's advertising platform
In August 2017, the Quora Ads platform began offering Website Retargeting, allowing businesses to reach Quora users who have already visited their website. In the Quora Ads Manager, advertisers can now create audiences of users who have visited different parts of their website and then target those audiences individually. For example, a campaign can reach people who have visited a website's product or pricing page, but left without completing a purchase: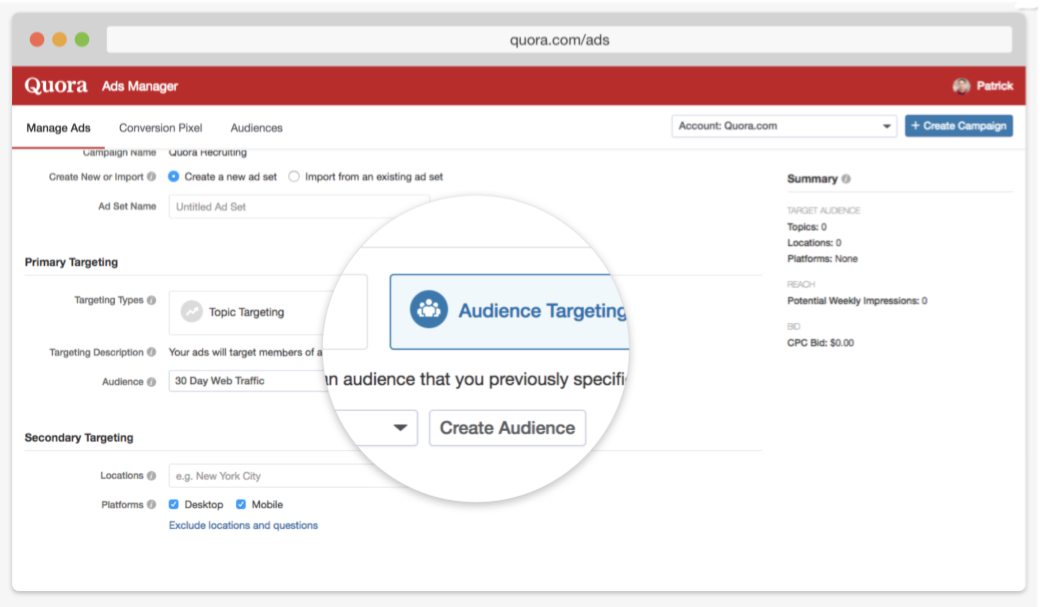 To utilize Website Retargeting, the Quora Conversion Pixel must be installed since this is what allows you to track website conversions generated by your Quora ad.
Set custom conversions in Quora ads
With Quora Conversion Pixel, advertisers can track specific events and goals, enabling them to optimize conversions on ad campaigns. Under the Conversion Pixel tab, there's a code snippet for the pixel. Simply add the code to the page where you're tracking conversions, and the code sends data back to Quora so you can measure activity, track conversions, and optimize accordingly.
Quora Ads run on a cost-per-click based model, powered by a real-time auction. After setting up targeting, advertisers then set their CPC bid, and can easily adjust it based on performance.
Image and video-based ads
Although a limited, experimental beta for video launched in May 2017, neither video advertising on Quora — nor image advertising — have been made available. So as of January 2018, only text ads and mobile app download ads (text only) exist (see examples below). Should image and video ads be introduced to the self-serve ad platform in the future, it would undoubtedly allow advertisers to reach their audiences more vividly and interactively, without interrupting the Quora learning experience.
Quora ads formatting
Text ads include five main components, each with strict character guidelines:
Business name: Maximum of 30 characters
Headline sentence: Maximum of 65 characters
Body text: Maximum of 105 characters
CTA: 1 of 16 encompassing the most popular offers
Display URL: Maximum of 30 characters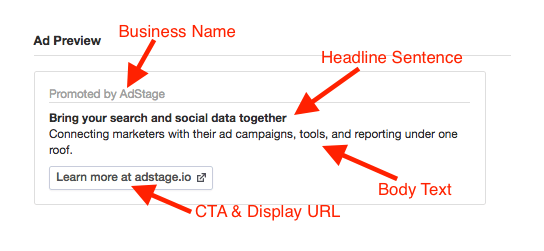 With firm character limits come high standards for their ads. They must all adhere to Quora's ad content policies and guidelines, be formatted appropriately, and remain free from grammatical, capitalization, and punctuation errors.
Quora ad examples
Quora ads appear both in users' feeds and on question pages. Let's take a look at some current examples.
Here are two ads displayed directly in the Quora user feed. This one from Survata links to the Ad Research Solutions section of their website:

And this one from Pipedrive links to a post-click landing page, encouraging prospects to sign up for a free trial of a simple sales management tool:

On question pages, sponsored ads appear either above or in between answers.
This Back Taxes Help ad was positioned above the answers on this particular question page: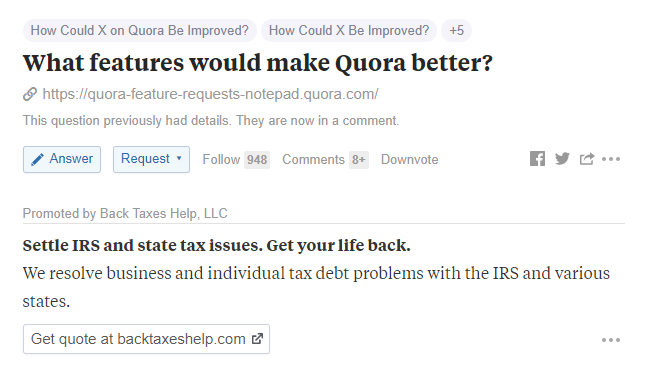 Notice how the ad is irrelevant to the question? This most likely occurred due to a topic targeting mistake, and unfortunately, it may not reach the most suitable, interested audience. Luckily, though, when users do happen to click the ad, they're directed to a dedicated post-click landing page where they can easily request a free quote: